OUR COMMITMENT
TO THE ENVIRONMENT
HOW WE CREATE
OUR PRODUCTS
Nature is an inexhaustible source of inspiration for our cosmetics: its functional ingredients, colours and fragrances are a beacon for us day after day.
With an impressive 6700 superior plants, Italy's biodiversity is one of the richest in Europe. Our mission is to make the most of this, using the functional ingredients in our cosmetics.
In creating and producing our cosmetics, we pay painstaking attention to the rules established by the regulations in force, taking care to guarantee our customers products that are not only pleasant, but above all safe. Each formula is subjected to numerous efficacy tests, for which very stringent quality standards are required.
WE CHOOSE
RECYCLED PAPER
Seeking quality supports for the presentation of our products has prompted us to choose 100% recycled paper for printing our catalogues and other advertising material.
The decision to use recycled paper was based on our desire to do something positive for the environment, by promoting energy saving, reducing CO2 emissions and saving forests.
Choosing to print our product materials on 100% recycled paper has allowed us to help save 1,628.497 litres of water, 20,685 Kg of CO2, 279,846 kWh of energy, 110,536 Kg of wood, 68,022 Kg of waste and 147,749 km of transport.
Since 2012, thanks to three photovoltaic plants, we have been making an active contribution to safeguarding the environment, by avoiding dangerous CO2, emissions responsible for the greenhouse effect and global warming.

PHOTOVOLTAIC
PLANTS
3

ENERGY
PRODUCED
more than 5,604,305 kWh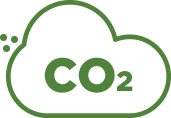 EMISSIONS
AVOIDED
more than 3,400,000 KG of CO2